5 Reasons Why Outsourcing Software Development to Poland Makes So Much Sense
If you're searching for a high-quality software development firm to work with that won't break the bank, you will find yourself confronted with numerous options for software development outsourcing.
However, one of the most advantageous options would certainly be Poland, a country which regained its' independence in 1989 after the fall of the Soviet Union and emerged as an economic superstar in the Central/Eastern European region.
Here are some reasons why you might want to take a closer look at collaborating with a development firm in Poland:
#1 EXCELLENT EDUCATION
After the fall of communism, many Polish universities (and vocational schools) took the time to restructure their curricula to make Polish students more competitive in the open market. The result is the graduation of over 15,000 new professionals annually from technical universities. Currently around 80,000 students are studying to become software developers.
This leads to the emergence of Poland as software development hub that is constantly on the forefront of new technologies and is well known for custom software development and project management.

In addition, the top-notch universities often attract international tech talent to Poland due to their outstanding reputation and the low-costs of living.
With young developers flocking to Poland and learning from experienced experts in the field, it creates a win-win situation for students and business alike. Not only do the young developers get a chance to assist on larger projects in the software development team, but experienced developers also become exposed to new ideas and trends that allow Polish companies to be more agile and competitive in the global market.
#2 LOW COSTS
No matter where your company is located, Polish development firms have something to offer when it comes to software development outsourcing.
Given the current economic situation, it's understandable that companies are always looking for a way to save on costs without skimping on quality. While professional software development is never cheap (even if outsourcing), Polish companies have the ability to be ultra-competitive, especially in the IT dimension of the global economy.
According to the Association of Business Service Leaders, Poland houses over 60,000 IT companies throughout the country, with IT hubs located in cities like Krakow, Poznan, Warsaw and Wroclaw. Having this type of domestic and international competition is beneficial for customers seeking for software development services.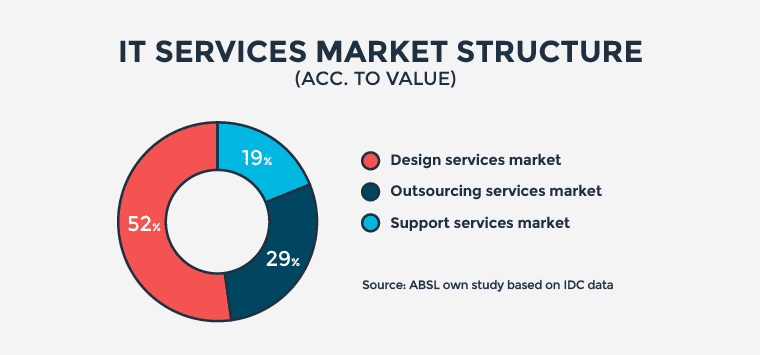 Even though Poland's economy has been growing while its' neighbors have been recessing, IT costs have remained fairly low, allowing potential customers to find highly experienced developers and project managers for an average salary under $5,000 a month.
#3 HIGH QUALITY PRODUCTS
While most people associate Poland's Western neighbor, Germany, with high-quality production and research, it should be noted that Poland has developed a similar reputation when it comes to quality.
Poland's growing reputation is not limited to consumer products, but applies to the business service sector as well - including software development services. In fact, many companies that have outsourced their software development to Poland could not have been happier with the end result.
One of the major reasons Poland has been established as an IT hub has to do with its' central location within Europe. Its' strategic location is very advantageous as it allows both customers and businesses to find solutions to problems in a timely manner.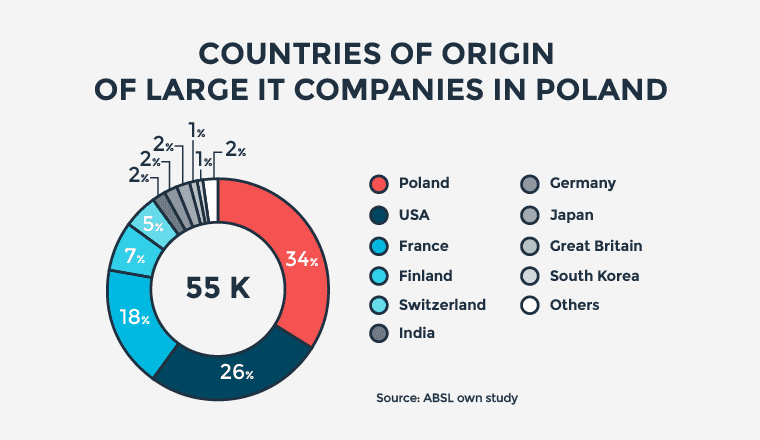 #4 QUALITY PROGRAMMERS
While Polish technical universities draw aspiring programmers to the country, they choose to stay. Poland offers programmers a chance to work with some of the world's best IT firms, and in a multicultural environment considering 66% of IT companies have foreign roots according to ABSL.
International firms come to Poland for numerous reasons, but one of the main reasons is the flexibility and the knowledge of the young developers. In addition to their comprehensive IT knowledge, domestic and international IT firms hire Polish developers because they often have excellent communication skills.
Poland is currently ranked 16th in the world for English proficiency, putting them ahead of countries like Switzerland, France and Italy according to the EF English Proficiency Index. This allows customers and managers alike to be able to communicate efficiently and overcome cultural and linguistic barriers that often hinder timely product development.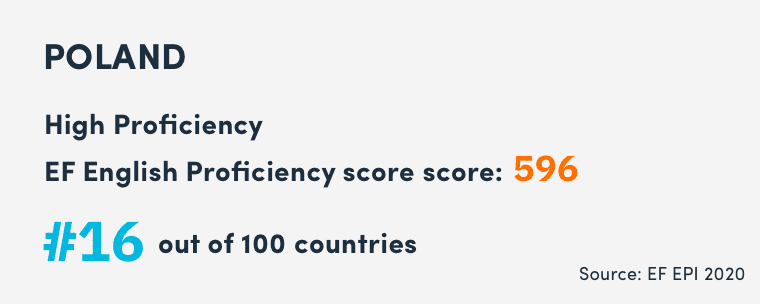 #5 ADAPTABILITY AND CUSTOM SOFTWARE
With the Polish economy's recent growth and influx of young, tech-savvy graduates, the IT market in Poland is constantly growing and adapting to new concepts and ideas.
The determination by these companies to remain ultra-competitive on a global scale gives the customer a dream situation of young, ambitious developers who are working with experienced project managers to create custom software and applications. Often, these applications are tailored directly to their needs, and all at a reasonable price.
You can rest assured that Polish software development company (aka. software house) understand what the customer wants and do not have to be micromanaged, allowing the customer to focus their energy elsewhere.
Software developers in Poland
According to Stack Overflow, there are over 250,000 software developers in Poland, which makes Poland #1 country in Central and Eastern Europe. Whole IT sector in Poland employs over 450,000 people and grows around 6% each year, generating around 8% of GDP. Software development companies (software houses) are among most desirable employers in Poland. At the same time there are about 80,000 students currently studying to become software developers. This places Poland among the greatest outsourcing destinations to consider if you would like to outsource software development.
Software outsourcing to Poland
While there may be other options other than Poland, you can rest assured that if you invest in a Polish software development company, you will receive quality maintenance and development.
Polish IT firms have consistently shown that they have been on the cutting edge of application development, and Polish programmers have made a name for themselves in international IT competitions organized by companies like Facebook or Google.
Quality programmers paired with a stable economic situation and low labor costs creates a great opportunity for any company looking to outsource their nearshore and offshore software development.